The Body Shop Colour Crush Eyeshadow Review
By Meylisa Agustina - 9:57 PM
Halo hola semuanya~
Beberapa waktu lalu aku pernah ikut acara yang diadain The Body Shop pas Jakarta Fashion Week. Salah dua produk yang aku dapat adalah Colour Crush Eyeshadow!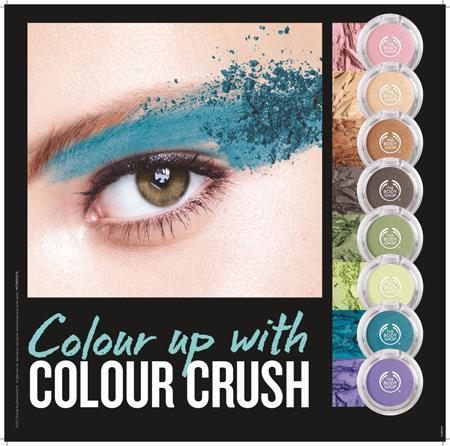 Color Crush Eyeshadow terdiri dari 30 pilihan warna yang verry pigmented dengan teksutur yang lembut. Oh iya, warna-warna Color Crush Eyeshadow ini eyecatching banet loh! Kalian bisa pilih sesuka hati karena warnanya banyak pilihan baik yang warnanya shimmery maupun matte. Dan desainnya yang sleek dan simpel, bikin eyeshadow ini gampang dibawa pas travelling.
The Body Shop Color Crush Eyeshadow #015 Midnight Kiss
Midnight kiss ini salah satu varian eyeshadow berwarna hitam matte. Warna hitamnya yang pekat, biasanya aku pakai buat setting eyeliner.
Eyeshadow ini warna nya juga nampol walaupun tanpa eyebase loh~~
Sayangnya, kalau dipakai tanpa eyebase eyeshadow ini ga waterproof. Pas aku coba-coba dirumah dan wudhu buat shalat eh warnanya lari. Mungkin kalau pake eyebase dulu warnanya lebih nempel kali ya?
Desain packagingnya simpel banget. Eyeshadow singel tanpa cermin. Kira-kira seukuran koin lah ya.. Oh iya, desainnya yang imut jadi gampang dibawa kemana-mana
Warnanya sekali colek langsung jos
The Body Shop Color Crush Eyeshadow #001 Sugar Glaze
Sugar Glaze ini salah satu varian eyeshadow Color Crush dengan warna putih bershimmer. Butiran shimmernya halus, jadi kalau pakai ini ga bakal kayak penyanyi dangdut kok hehehe
Anyway, setelah aku coba swatch ditangan ternyata sugar glaze ini ada sedikit hint warna keunguan. Sepertinya sih warna ungu itu datang dari shimmering-nya yang agak keunguan.
Eyeshadow ini paling sering aku pakai untuk dibawah mata pas make up ala-ala Korea
Ya kali aja gitu tiba-tiba aku jadi mirip teteh Bora SISTAR muihihihihihi
*mimpi*
Sekali colek lumayan jos. Difoto kurang kelihatan hint ungu nya. No problemo lah~
Ini pas aku pakai Midnight Kiss sebagai eyeliner, dan Sugar Glaze sebagai waterliner.
Kalau looks yang ini sebenernya aku submit buat kontesnya JAPAN SOFTLENS. Maklum yaaaa masih belajar jadi ya seadanya
Kedua looks diatas menggunakan JAPAN SOFTLENS Ageha Lunatia Grey
More info and Order:
Japan Softlens | Jual Softlens Warna Nyaman Asli Jepang♡