Color Crush! a NEW product from The Body Shop
By Meylisa Agustina - 8:56 PM



Minggu-minggu ini ada evnt yang lagi happening banget nih di Jakarta. Yes it's Jakarta Fashion Week!!

As far as I know, tiap tahun Jakarta Fashion Week (JFW) selalu disponsori make up oleh The Body Shop. Dan tahun ini, perhelatan JFW dibarengi dengan launching The Body Shop: Color Crush!





Crush on your Lips
source: http://www.thebodyshop.co.id
Color Crush Lipstick terdiri dari 24 pilihan warna yang very pigmented. Pilihan warnanya dari nude, pink, coral, red daaan masih banyak lagi. It's all can be yours!
Selain itu, Color Crush lipstick mengandung community fair trade minyak marula yang bikin bibir tetap lembut. Dan uniknya, Color Crush lipstick ini beraroma mawar loh!
Satu produk Color Crush lipstick sudah bisa kamu beli di gerai The Body Shop terdekat dengan harga Rp. 139.000.
Crush on your Eyes
source: http://www.thebodyshop.co.id
Color Crush Eyeshadow terdiri dari 30 pilihan warna yang verry pigmented dengan teksutur yang lembut. Oh iya, warna-warna Color Crush Eyeshadow ini eyecatching banet loh! Kalian bisa pilih sesuka hati karena warnanya banyak pilihan baik yang warnanya shimmery maupun matte. Dan desainnya yang sleek dan simpel, bikin eyeshadow ini gampang dibawa pas travelling.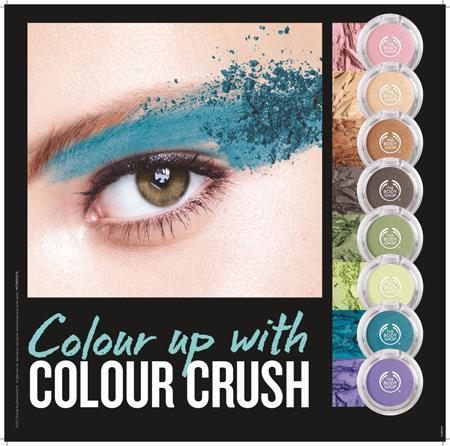 source: paperblog.com
Oh iya, Color Crush Eyeshadow ini mengandung Community Fair Trade minyak kacang Brazil, minyak marula, madu, minyak kelapa organik.
Satu produk Color Crush Eyeshadow sudah bisa kamu beli di gerai The Body Shop terdekat dengan harga Rp. 109.000.
Oh iya, sebenarnya apa sih yang dimaksud Community Fair Trade??
Yang dimaksud Community Fair Trade adalah para produsen berkomitmen untuk memasok bahan baku mereka secara adil, jujur dan bertanggung jawab. Produsen akan mengambil bahan baku mereka dari pemasok kelompok usaha berskala kecil seperti petani, peladang, dan pengrajin lokal dengan harga yang sesuai dengan harga pasar.
Dengan Community Fair Trade, produsen membantu meningkatkan pendapatan para pemasok.
Nah, untuk Color Crush Lipstick, The Body Shop bekerja sama dengan Eudafano Woman Co-Operative yang membantu 1750 wanita lokal mendapat penghasilan yang layak. Untuk Color Crush Eyeshadow, The Body Shop memasok bahan baku dari Candela Co-op yang berkomitmen untuk melindungi 3000 hektar hutan hujan di dekat sungai Madre de Dios, Peru.
Forest near Madre de Dios river. Source: Pinterest
Oh iya, ini live blogging aku selama acara launching Color Crush di TBS counter Senayan City!